Set up as part custom bike builders, part surf and riding gear artificers, and part popular purveyors of coffee, live music and gallery exhibits, Deus Ex Machina remains a heady, heavy desegregated marque that leaps boundaries.
‍
Bikers, boarders, beatniks, thrashers, titans and trekkers - Deus ex Machina hurls a wrench into the outdoor, streetwear and extreme sports scenes with tees, sweaters, jackets and accessories alongside its cult cycles and surfboard offerings.
‍
Anything but your basic clothing brand, Deus Ex Machina transcends what you'd expect from the average fashion label with a unique perspective, innovative culture and an entirely new approach to surfing, riding and brand experience. If you're looking for clothing that doesn't follow the latest trends but instead fits into the creative culture of old-school motorbiking, surfing and skateboarding, Deus Ex Machina is a brand that might just resonate. A vast collection of clothing items, plus the introduction of various 'Temples' around the globe, are all a part of the laid-back, creative Deus philosophy and persona.
‍
Initially, the Deus Ex Machina brand story surrounded the development and creation of motorcycles. Their clothing line stepped in at a later date to round out their offering and deliver the power of Deus to fans of the brand in every corner of the globe. Today, the successful motorbike and culture brand collaborates with some of the biggest names in the world to deliver forward-thinking fashion and individualism to even more people.
‍
But where the heck did this all begin? And what backroads were traversed in the history of Deus Ex Machina? Let's dive a little deeper into the evolution of Deus Ex Machina and explore the story of how the brand became what it is today.
Founded by Dare Jennings from the money he raised by selling on iconic 80s and 90s surfwear brand Mambo, Deus Ex Machina revs into life in 2016; borne out of its owner's love of riding crashing breakers and customised bikes.
‍
If you've ever been to a beach you will recall Mambo. The irreverent surfwear line began life back in 1984 with some screen printed tees designed by Jennings and his pal Andrew Rich before becoming a mainstay on every stretch of sand on the planet. By 2000, Mambo had supplied the Australian Olympic team with trackies for the Sydney Games and from then on it was perhaps inevitable Jennings would seek a return to his off-the-cuff roots.

Much like Mambo, Deus Ex Machina's philosophy at launch is built upon lifestyle and culture over product, fostering an individual and unique approach to surfing, riding motorbikes, and any other activity along the same vein. As a lifelong fan of motorbikes and surfing, Jennings created Deus Ex Machine as an extension of his own passion and enthusiasm, using his past successes to co-found what would become a global brand.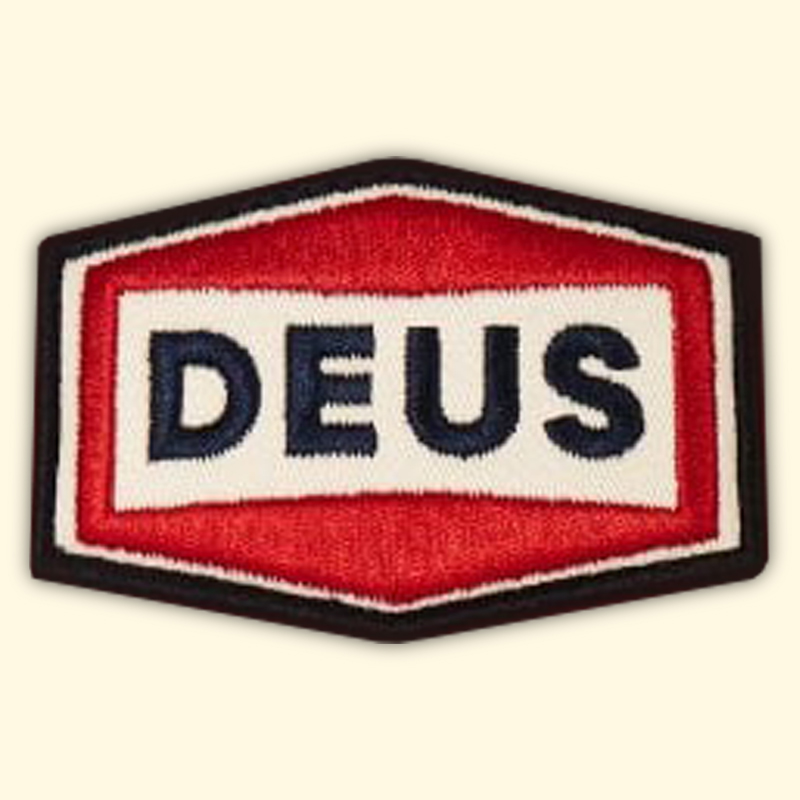 Opening a first Deus outlet in Camperdown in Sydney, Australia, as a creative collective space to machine custom motorcycle parts and turn out bespoke bikes, Jennings and co-creator Carby Tuckwell (ex-Creative Director of Moondesign) start their journey from untested design philosophy to a name with worldwide appeal. The pair have always said they biked to the beach every day - hence the mashup of motorcycles and surf as the soul of Deus.
‍
Just a pause here for the uninitiated to connect the Deus Ex Machina identity with the meaning behind the brand name. Deus Ex Machina (pronounced "Day-us Ex Mack-in-ar") translates from Latin to mean "God from the machine". The concept, originating from ancient Greek and Roman drama, describes a situation in which something inexplicable occurs (such as the arrival of a deity in human or godlike form) to disentangle a seemingly impossible scenario. There you go - and we're off into the world of Deus the brand.
‍
At launch, Deus Ex Machina is an Australian-exclusive brand with a primary focus on biking and custom parts over anything to do with fashion. Rooted in openness and inclusivity, the original Deus showroom/coffee house/workshop is established in the Camperdown suburb of Australia's biggest city.
‍
The venue, a former factory building, quickly acquired the moniker 'Temple of Enthusiasm'. This concept of a cultural sanctuary involved bringing together workshops, artist studios, independent designers and offerings of food and drink in a spirit of freethinking and innovation.
2007:

Deus Plans For Growth
Following the successful launch of the initial Camperdown location, Deus Ex Machina quickly grows beyond its roots to reach into similar communities and lifestyles across the globe. At this stage, the concept of the cultural temple becomes a major focus for the brand.
‍
Instead of just offering simple retail, the goal of each cultural temple is to provide a complete story and fully immersed culture that hits into the local surf and biking landscape. The idea behind cultural temples is to offer more than just a storefront. Focusing on creativity with art, parties, fashion, fun, and a few drinks helps make Deus Ex Machina a scene staple instead of yet another 'cool' streetwear brand.

As Deus Ex Machina continues to experience success in their Australian niche, connecting with like-minded communities in locations from Ibiza to LA, Milan to Biarritz makes sense. Spaces where Deus could find customers with the same laid-back philosophies and values.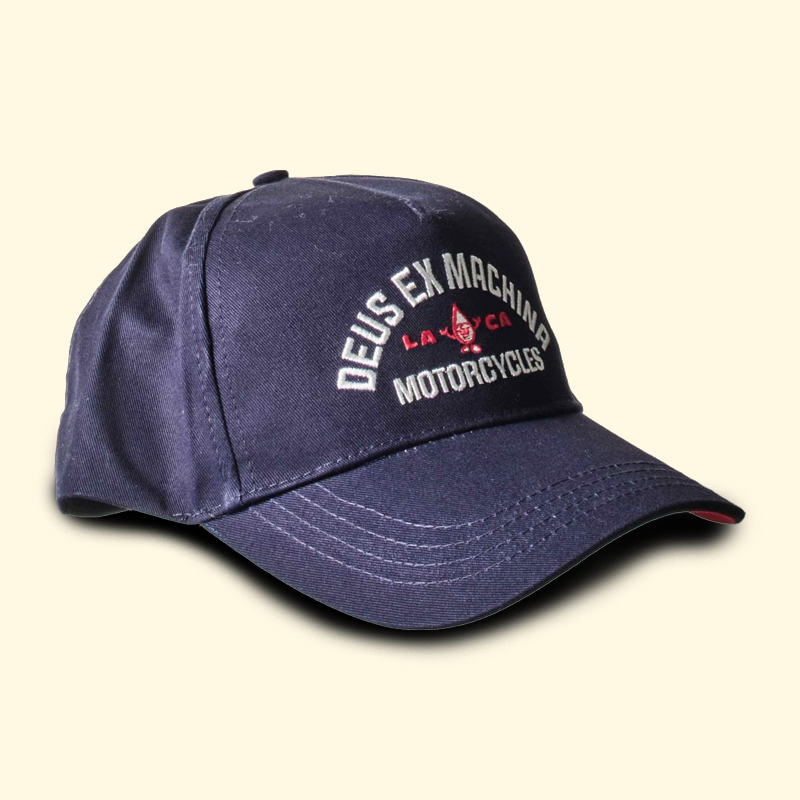 Over the next couple of years, Deus starts to expand its fashion range from bikes and minimal clothing lines to include anything from boardshorts to bike jackets and wetsuits to casualwear, delivering culture via carefully designed clothing lines. Between the years 2007-2009, plans for more global flagship spaces are firmly underway.
2010:

A Home For Motorcycle Enthusiasts
As excited chatter continues to grow, annually the streets around the Sydney-based Deus bike shop begin to reverberate as collections of riders gather to test-drive machines, listen to live tunes and wash spit-roasted pork sarnies down with Di ­Lorenzo coffee. Later, Deus would move a couple of blocks down to an even bigger temple, now named the "House of Simple Pleasures".
‍
The "Bike Buildoff" was launched in the years after Dues was established to showcase non-professional motorcycle enthusiasts and their creations. As the Deus empire continues to swell, so does the yearly bike building challenge with global locations added to the competition as the company opens new outlets.
2011:

A New Bali Location For Deus Ex Machina
Deus find their new spiritual forever-hangout on the fantastical island of Bali. A second Temple of Enthusiasm opens in the south coast resort of Canggu just as a fresh wave of surf culture hits the shores of the Bali Sea.
‍
Thronged by Aussie and American surfers since the 1970s, drawn to the island's famed tubular waves, this new telling of Bali's discovery by Western explorers becomes more beachfront bars, boards, bikes and barbecues than those invasions by 16th and 17th-century colonial fleets and the much later psychedelic-clad hippie travellers.

Bali becomes the new cultural centre of the Deus Ex Brand with the Temple of Enthusiasm flagship launch. Leaning heavily into the local tattoos and tacos surfer and biker culture, the new Bali location will become the blueprint for all of the temples and flagships that follow.
‍
Created in collaboration with Dustin Humphrey, one of the best-known creatives in surfing, the vibe of the Canggu temple location is all about experience first and shopping next. At this point, Deus begins introducing fashion lines on a larger scale, furthering that cultural feel with clothing the match.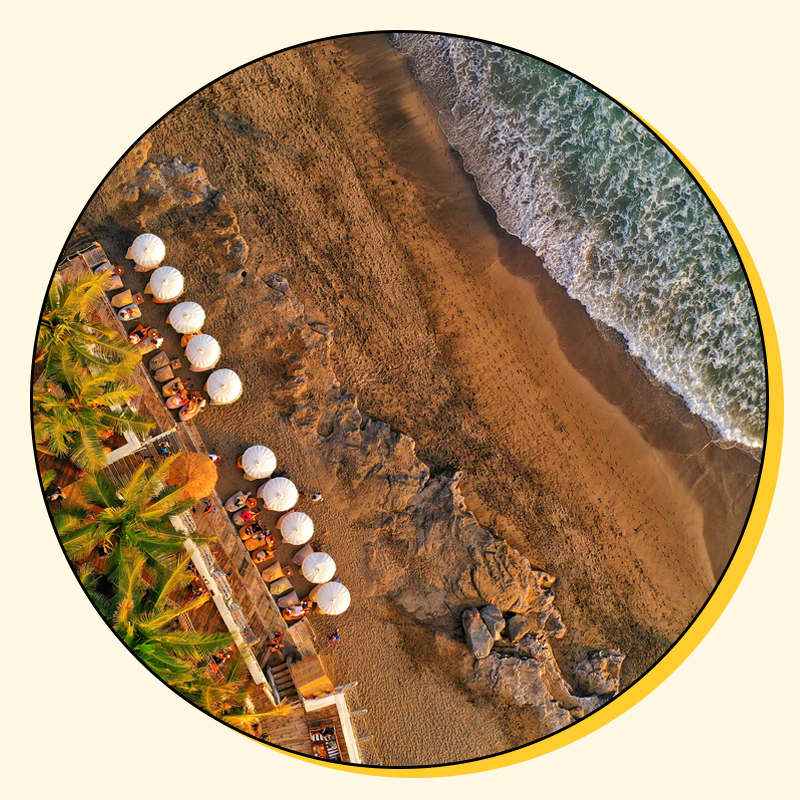 Bali enabled Deus to go big in Canggu and the now landmark location quickly becomes a cool, all-in-one commune-of-hip on any surfer's passage to Echo Beach. Naturally, the Canggu Temple of Enthusiasm houses a bike shop, a surf outlet, and is dashed with art and photo galleries. There's also a café and nightclub for parties and gigs and the launch of the ongoing famed "Tacos 'n' Tattuesdays" food and inking sessions.
2012:

Deus Ex Machina Enters The US
Now eyeing a new wave of global domination, Deus sets foot on American soil with another expansion. This time it's a New York base and another twist on the naming concept as "The Emporium of Post Modern Activities" opens in the Big Apple. An offering with the same title also springs up in Los Angeles, a stone's throw from Santa Monica Pier and Venice Beach.
‍
With its Venice Beach location, the brand takes on Californian surf, bike and motorcycle culture with hand-picked clothing. Plus, entirely custom motorcycles from Michael "Woolie" Woolaway and a wide selection of curated artworks to add to the final image. As a more traditional storefront, the California venue features racks of apparel, accessories and gear inspired by the brand's first Camperdown, Sydney location.

The "X Reigning Champ Collection" also launches this year, with an understated lookbook of grey fleece hoodies, complete with an integrated balaclava and accompanying rider jacket. This early collab between Deus and Vancouver-upstarts Reigning Champ demonstrates a clear sign that the hairy biker-wear of yore was morphing into something altogether funkier and fitter to fuse streetwear with nods of old-style leather-esque styling.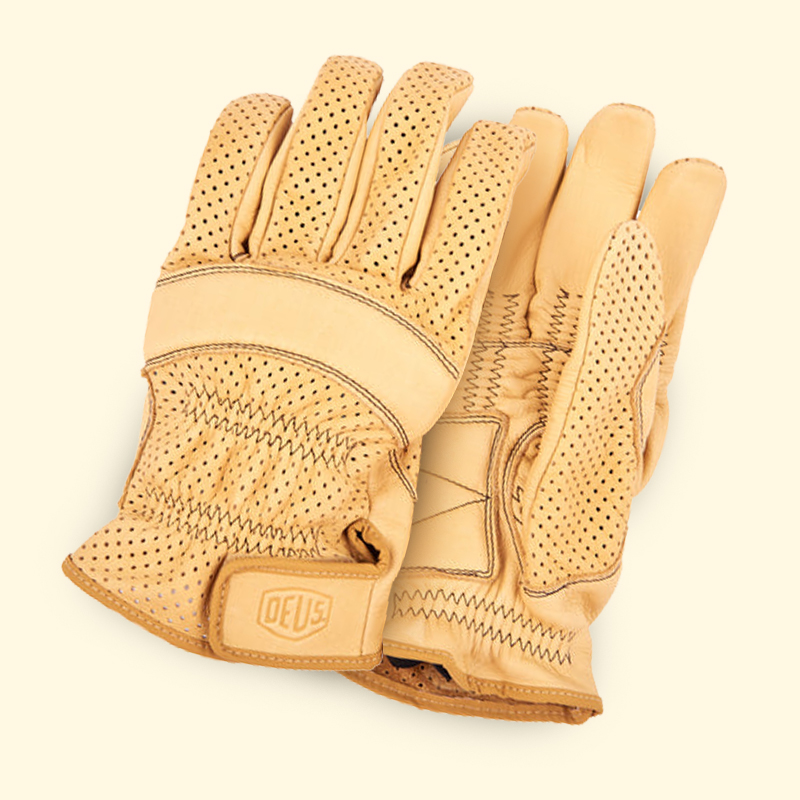 That trend continues when Deus gives notable Japanese motorcycling glove makers, Harold's Gear, a call and suggests a line of belted leather mittens bearing the Ex Machina logo. The collab continues with Deus handing the then-ailing manufacturer another shot at producing their legendary Napa cowhide "Gripping Glove" complete with Deus markings. It provides the vintage biking outlet with a shot in the arm and even now Harold's is still out there, in Tokyo, selling leathers.
2013:

Deuce Drops Multiple Footwear Collabs
Firmly putting the pedal to the metal, Deus collaborates with Santalum of Indonesia to produce some seriously tough biker boots. Suitably titled the "Santalum X Deus", the footwear is manufactured from rough-out buffalo hide with a Goodyear welted sole.
‍
Steel toe caps complete the hard case look, fusing Jennings and Tuckell of Deus with a pair of Java shoemaking pals whose story complements their own. Indonesia has been big on boot making since the Dutch colonised the island way back in the 17th century. But Santalum was set up after its founders became frustrated that they couldn't find decent biking varieties among their fellow Bandung cobblers.

This year also sees one of Deus Ex Machina's first and most iconic collaborations with well-known footwear brand Converse.

With a debut in July of 2013, the Deus Ex Machina x Converse shoes drop in the form of the Jack Purcell silhouette, using a combination of black, burgundy, and whisky shades in the collection to appeal to the old-world style of many of Deus's own fashion lines. The Converse collaboration is available exclusively through Deus Ex Machina flagships in California and Australia.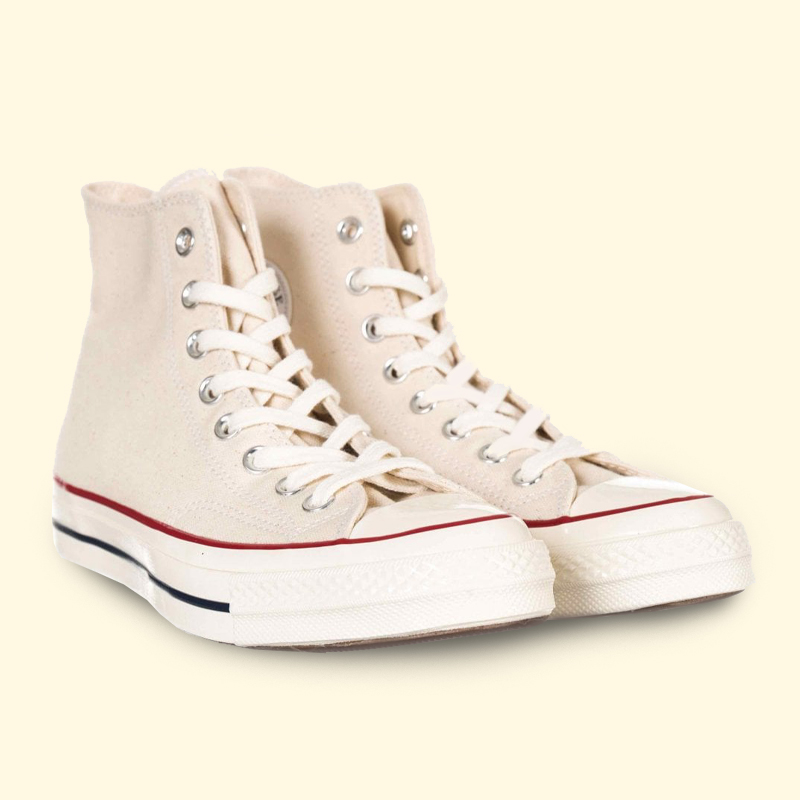 2014:

Deus Expands From Milan To Japan
This is the year that Deus stirs the pot once more by opening their Cycleworks store in Milan. Deus raises eyebrows by transcending from motor-powered two-wheelers to those requiring human endeavour. Long regarded for its love of cycling, Italy makes the perfect base for this new Deus flirtation with pedal power.
‍
Naturally, the launch sees a range of gear for bicycling enthusiasts as Deus hooks up with De Marchi - reputedly the world's oldest cyclewear company. The collaborated line goes heavy on the Merino wool blend long-noted in jerseys and cycling shorts bearing the name of the Italian speed racer who made his name in the 1920s and 30s. Hand-cranked embroidered logos of both partners evoke an authentic nod to the sepia-tinted shots when De Marchi himself was in full flow.

Barbour International, purveyor of the world's most famous waxed jackets and complimentary knitwear, also announce a collaboration with Deus Ex Machina this year. The limited-edition line of Barbour-inspired motorcycle jackets, beeswax outers, woollens and hand-drawn tees fuses with Deus' positioning as the modern outfitter for dirt track bikers. The exhaust fume aesthetics of Deus combine effortlessly with Barbour's century-plus reputation for rugged reliability.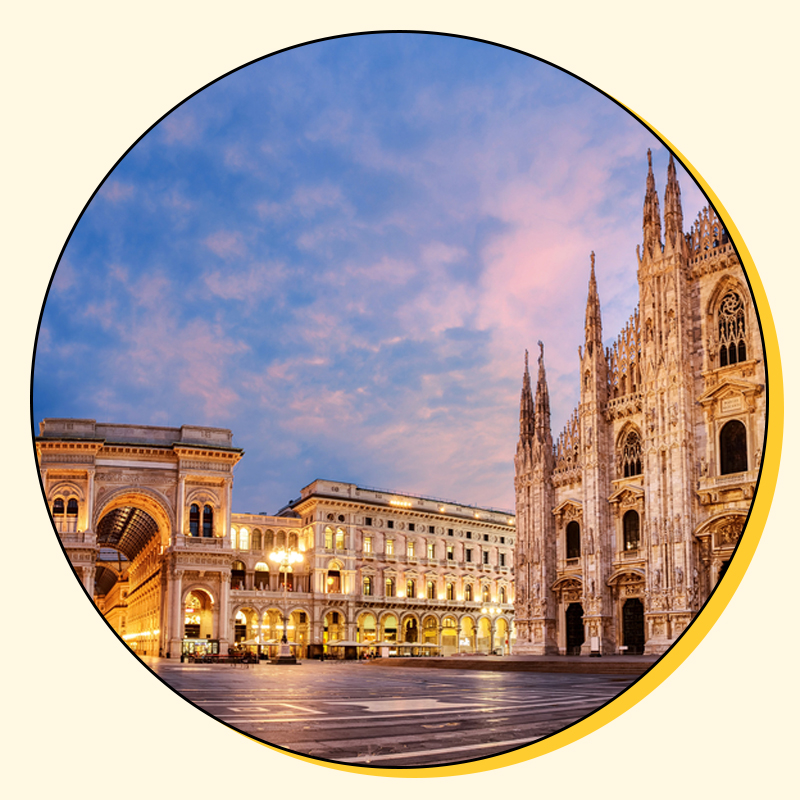 The Barbour x Deuce Ex Machina Horace Jacket provides a popular addition to both lines, with the practicality and versatility of Barbour combined with the contemporary cool of the Deus Ex Machina Brand. Created from waxed cotton with leather detailing, the vintage biker aesthetic of this interesting collab fits in perfectly with the existing Deus biker, surfer, postmodern vibe.
‍
Elsewhere, Deus finally enters Japan - the land that did much to inspire the firm's founders in their love of motorcycles - with a new flagship store in the heart of the thriving art and youth fashion scenes in the Harajuku district of Tokyo.
‍
Named the 'Residence of Impermanence', based in the heart of Japan's unique fashion district, the Tokyo store specialises in creating unique motorbikes in addition to the sale of Deus Ex Machina's clothing lines and collaborations. While the Harajuku-based shore shut up shop in 2020, the company has since moved to Asakusa, offering a small-scale store and café location that provides the classic Deus atmosphere in a more compact space.
2015:

Custom Bikes & Fashion Collabs
Maintaining their ethos of retailing as but a bit part in the quest for motorcycling perfection, Deus engineers launch a custom café racer in homage to the legendary BMW R100. The 1970s throwback to the 'form and function' days of the German manufacturer's street sports heyday is unveiled to great fanfare from the biking press.
‍
The 2015 Autumn/Winter collection from Deus notes a grounded maintenance of biker basics. The now-mainstay Skull Bomber Knit hits us with a mix of wool and nylon yarns for hardwearing road trips while the new Workwear Jacket nods to the easy-on requirements of mechanics and crews.

Deus teams up with American bootmaker Oak Street to release an exclusive version of the footwear brand's Trench boot. Made from luxurious Horween Chromexcel leather, the boot features Goodyear welt construction and is offered in a slick black colourway.

This year also sees Deus Ex Machina join forces with Raen Optics for a second time to deliver a California-surfer style range of sunglasses to suit the laid-back aesthetic of the brand perfectly. Launched at a special popup store in Deus Ex Machina's Harajuku location, the frames offer effortless cool with a collab that perfectly lines up with the existing aesthetic of the Deus Ex Machina clothes range.
2016:

A Special Deuce Jacket & A Special Custom Bike
Another step into the beyond, and Deus teams up with Alpha Industries to produce an MA-1 Flight Jacket. The original American Navy and Airforce bomber jacket of the same name was launched in the 1950s in response to new extreme requirements for pilot clothing in the jet age.
‍
This 2016 collab was ultra-authentic, teaming up Dues with Alpha who have produced military jackets for over half a century. Alpha had been awarded the original US government contract for the MA-1 in 1963. You will have seen the MA-1 in action many times, favoured as it is by multiple police squadrons and armed forces around the world. Movie-goers will have spotted the MA-1 on the backs of Steve McQueen in The Hunter (1980), Kevin Costner in Bull Durham, and Keifer Sutherland as Jack Bauer in 24.

Head bike builder at Deus, Jeremy Tagand, leads a project to create a custom bike called 'The Onyx' that includes an exclusive surfboard attached to the side. With a stealthy all-black finish, the bike combines parts from classic Japanese and European models, along with modern components, for a unique ride that's ideal for trips to the beach.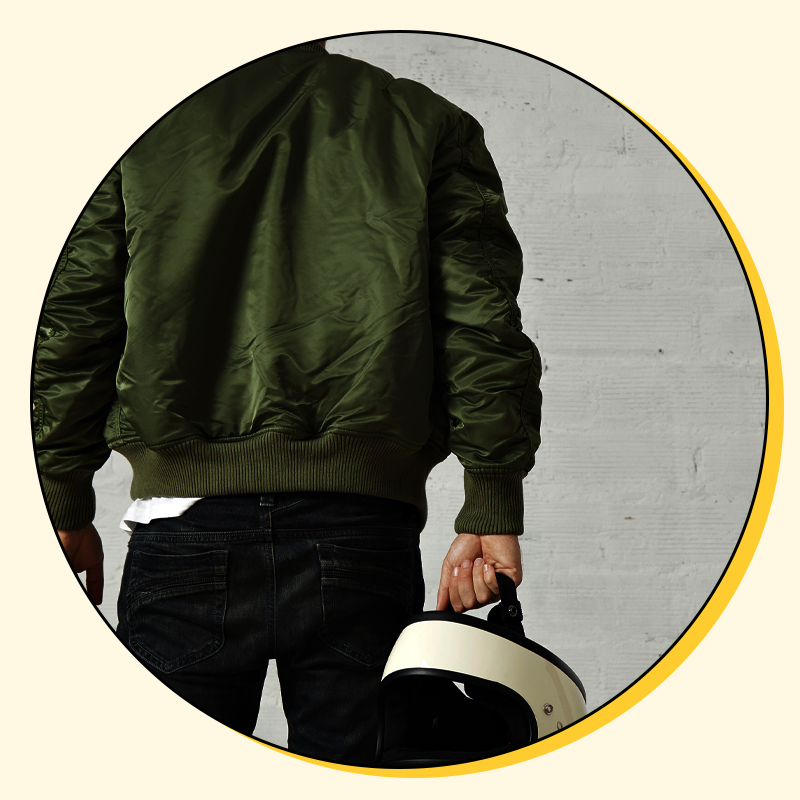 2017:

Change In Leadership At Deus Ex Machina
Barely raising a mention in the business pages, Dare Jennings is reported to have sold his stake in Deus. The minimum of fuss belies something of a big deal. The new CEO of Deus is revealed to be Federico Minoli. As former chief of Italian motorcycle maker, Ducatti, and the man who had previously been at the head of fashion houses Bally, Benetton and Woolrich, Minoli appears to be a seamless fit for Deus.
‍
Deus continue on their merry way with the launch of the Sunbleached Collection. Overdyed and over-washed, the range perfectly embodies that well-worn look that all outdoorsy types achieve from wearing their most treasured sweater, T-shirt or cap in the baking summer sun.

This year Deus also launch a range of boots created in collaboration with English footwear brand Trickers. With a choice of three classic styles that combine Trickers' bootmaking experience and Deus Ex Machina's design flair, the boots drop exclusively at Deus stores in Sydney, Milan and Venice Beach.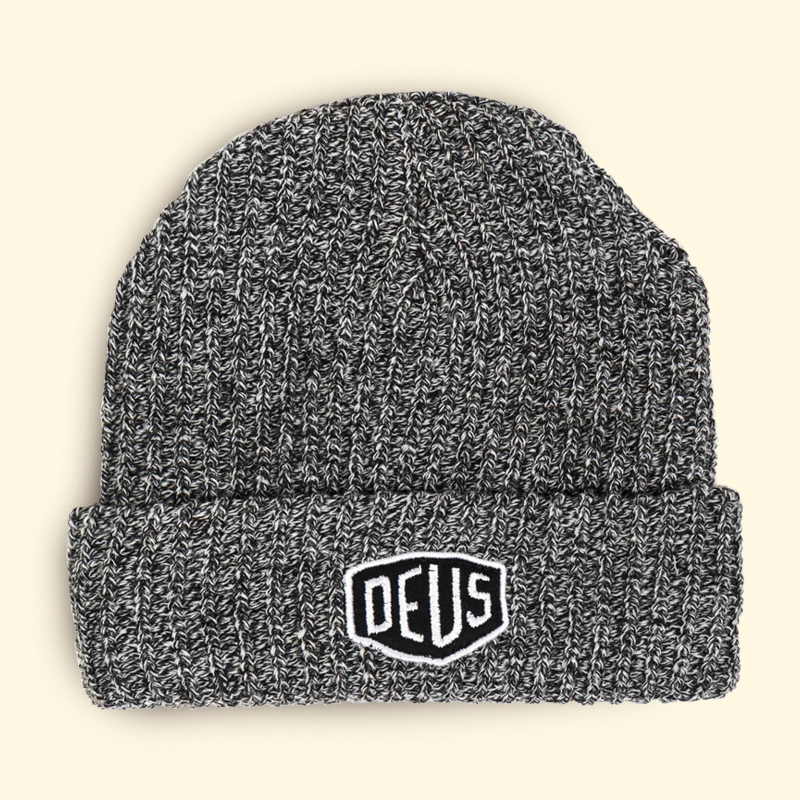 2019:

South Africa Welcomes Deus Ex Machina
2019 sees the introduction of Deus Ex Machina to an entirely new continent in the form of the Homestead of Perpetuity. This Cape Town storefront includes a full café in addition to the artistry, clothing and celebration of culture you'd expect from the global brand.
‍
Built in a 17th-century structure, the café and store offer easy access to the Bay and an on-site Barber to further add to the culture-in-one-place experience.
‍
Crossfit is also available on location with regular live events and sessions to transform the flagship into a bustling hub for surf, skate, and motorbike enthusiasts in South Africa.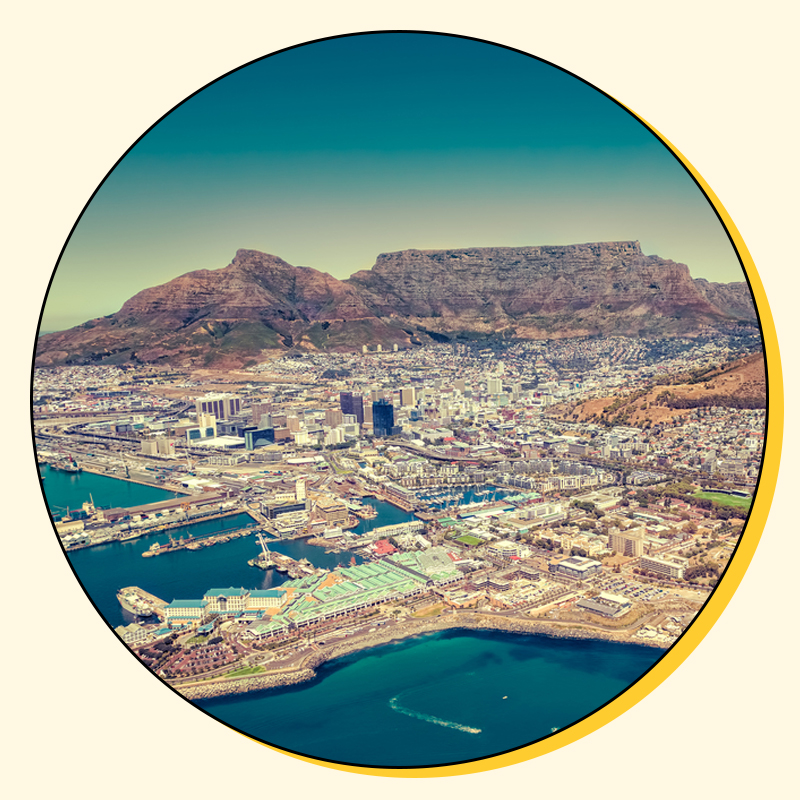 2020:

Celebrity Bikes & The End Of An Era (In Japan)
As the new "Roaring Twenties" get underway, and having supplied bespoke motorbikes to legends including Billy Joel and Bruce Springsteen plus Hollywood A-lister Ryan Reynolds, Deus find themselves taking the makers of a movie occupying an altogether polar opposite position to the brand's identity to court.
‍
Flatteringly described as a "schmaltzy" teen romance, more accurately perhaps as a "vacuous flop", The Sun is Also a Star featured the film's female lead forever in a non-Deus produced bomber jacket adorned with the company's logo. Claiming the apparel as "gaudy and inferior", insult was added as the male half of the movie appeared on social media wearing authentic Deus gear. Not wishing to be associated with such sugar-coated twee, the firm objected to "knockoff-quality" gear bearing its name.

Meanwhile, firmly back in the cultured cool space in which Deus is now firmly known, the brand ties up with New York design studio Young Jerks for a fresh line. The collection entitled "This Must Be The Place" features tees, shirts, jackets and a set of motorbike decals all inspired by 1950s, 60s and 70s typography and illustration. Young Jerks had produced one of the first-ever Deus logos a decade earlier and the "Bad Manners" t-shirt is swiftly noted as a suitably face-smashing standout in the range.
To mark the closing of Deus Ex Machina's Harajuku location, and the move to a more compact Tokyo space, the brand launches its final customised motorbike created at the workshop. The bike is based on a 1982 BMW R1000RS, which has been kept in storage for years, and is named the 'Two Face' which hints at its design that allows the rider to easily customise the setup between relaxing road cruiser and responsive race bike.
2021:

Deus Ex Machina Hits South America
The latest addition to Deus Ex Machina's global presence is the 'Mansion of Munificence', their flagship Brazilian location. As a literal mansion space created in the 1950s and transformed into a postmodern-style design, the flagship offers an on-site retail experience in addition to an art gallery, restaurant, lounge and rooftop area of parties.
‍
As one of the largest flagships to date, the Sao Paulo location shows the strength of the brand globally, with new clothing ranges and collaborations continuing to stock the shelves. Sao Paulo may be the most ambitious launch of a flagship location so far for Deus Ex Machina, with extensive floor space and ample entertainment on-site to provide something to do day and night.

Deus continue their carefully-chosen collaborations by lining up alongside iconic climbing clothing pioneers Gramicci. Jerseys, fleeces and headwear are accompanied by two new takes on Gramicci's signature 'G Pants'. The technical, rugged pieces take a subtle swipe at outdoor apparel culture with bold colours alongside minimum endorsements with a small Deus logo beneath Gramicci's instantly recognisable signature branded waistband.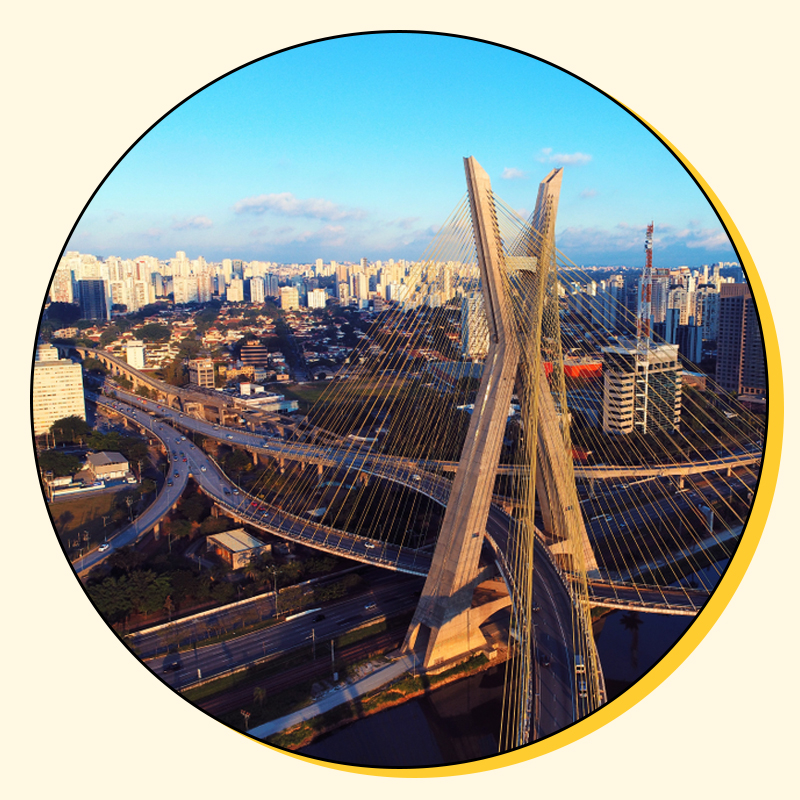 For another collaboration, Deus teams up with luxury watch brand Breitling. The high end, sports-focused nature of the classic Breitling makes it a perfect match for the aesthetics and feel of Deus Ex Machina. The Top Time Deus Limited Edition launches in 2021, offering a stylish luxury watch with an old-world, motorcycling inspired aesthetic. The use of brown leather straps, an off-white dial, and orange pops of colour perfectly - with just the right amount of retro-cool - fit into Deus's custom motorbike and surfing collection. With a limit of 1,500 pieces, the Breitling collaboration offers luxury and style to many of the high-end customers that Deus attracts.
‍
The collaborations continue for Deus, this time with famous Japanese brand Addict for the launch of two Japanese-retro influenced biker jackets, inspired by the old-world charm of the biker community. With the option for a subtle plain jacket or for a model with a full printing to the back, each jacket makes use of the sheepskin leather popularised in the 1930s and 1940s for riding apparel, hitting the nostalgia factor that Deus Ex Machina values precisely.